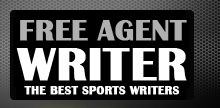 Yankee Addicts
Categories
Featured Sponsors
News published by
December 28, 2013
The bitter taste of defeat that fans of the Tampa Bay Buccaneers have endured all season is trumped only by the emptiness of despair and disappointment they've been left to ...
September 7, 2013
After an offseason filled with anticipation, fueled in part by the numerous star-studded acquisitions in their secondary, the Tampa Bay Buccaneers begin the 2013 campaign on the road at MetLife ...
July 28, 2013
Day 3 of training camp was under the bright lights of Raymond James Stadium on Saturday night, as the Tampa Bay Buccaneers invited fans to experience all of the sights ...
June 18, 2013
The NFL schedule makers were relatively kind to the Tampa Bay Buccaneers this season, as their road games against the New York Jets, New England Patriots and Seattle Seahawks were ...
May 31, 2013
There are currently in excess of 80 players on the practice fields of One Buc Place participating in the Tampa Bay Buccaneers offseason program. Any coach will tell you this is ...
May 21, 2013
The Tampa Bay Buccaneers rushing attack improved by leaps and bounds in 2012, when compared to how they fared the season prior.The Bucs averaged 114.8 rushing yards per game last ...
May 3, 2013
As a child of the '80s, I don't remember much of the Tampa Bay Buccaneers when they donned creamsicle uniforms with a winking pirate, lovably named Bucco Bruce, on the ...
April 28, 2013
The 2013 NFL draft has come and gone, and though the Bucs added six players in the process, there is always room to add a player if he can potentially ...
March 2, 2013
The Tampa Bay Buccaneers have had a top-five overall pick in the NFL draft nine times in their 37-year history.While most names, such as Lee Roy Selmon (No. 1), Bo ...
November 30, 2012
The Buccaneers (6-5) travel cross-country to the Mile-High City of Denver, Colorado to take on the Broncos (8-3) on Sunday afternoon.The Bucs come in having won five of their last ...