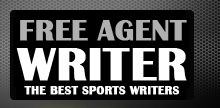 Yankee Addicts
Categories
Featured Sponsors
News published by
October 18, 2010
Today's game was considered by many to be a must win game for both the Minnesota Vikings and the Dallas Cowboys. Despite playing with banged up quarterback Brett ...
September 30, 2010
I've always been a huge supporter of Jeff Fisher and of Vince Young since he entered the league. I've defended both numerous times, but it's time to change ...
September 30, 2010
Head coach Raheem Morris announced that rookie running back LeGarrette Blount has earned the short yardage and goal line duties from now on during his weekly radio ...
September 28, 2010
He had the career that never ended. He was coached by legends. He's the NFL's leading scorer. And he had a biting sense of humor. Monday, ...
September 26, 2010
Pittsburgh Steelers (2-0) at Tampa Bay Buccaneers (2-0) Stats/Notes of Interest -This will be the ninth meeting between the Steelers and Buccaneers. The Bucs are 1-7 in the ...
September 18, 2010
Tampa Bay Buccaneers (1-0) at Carolina Panthers (0-1) Stats/Notes of Interest The Bucs are 7-12 all time against the Panthers. Since becoming NFC South rivals in 2002, ...
September 14, 2010
Sam Bradford threw three interceptions and one touchdown against the Arizona Cardinals in his pro debut as a St. Louis Ram. While Chris Long was spouting obscenities such as "I will ...
September 14, 2010
Yellow flags color the Cowboys Game Going into the game against the Washington Redskins the Dallas Cowboys only concern was the injuries to the offensive line. ...
September 14, 2010
Offense: C- I don't blame the offense as much as I blame the shitty play calling, but the offense was still some shit. Sanchez actually looked better than ...
September 14, 2010
The Tampa Bay Buccaneers are 1-0. It's not too often you can say that, the last time the Bucs won a season opener was in 2005 when they ...