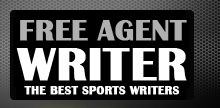 Yankee Addicts
Categories
Featured Sponsors
News published by
July 9, 2010
Coming off of a 4-12 season in 2009, the Washington Redskins are eager to put the Jim Zorn era behind them as they start afresh with a new front office, ...
July 4, 2010
This is the final article in a three-part series discussing what the Washington Redskins must accomplish in 2010 to contend for a Super Bowl. The first article focused on the health of ...
June 30, 2010
This is the first in a series of three articles discussing what the Washington Redskins must accomplish in 2010 to contend for a Super Bowl. With training camp a month ...
June 22, 2010
Donovan McNabb would never admit it, but he undoubtedly cringed more than once watching tape of the Washington Redskins' offensive line from 2009. Watching friend and fellow QB Jason ...
June 19, 2010
With all the talk surrounding Albert Haynesworth and his less than certain future with the Redskins, everyone is overlooking the fact that Washington has managed to compile a solid group ...
May 20, 2010
  By the time the NFL offseason hits late May, interesting football news is hard to come by. The free agent market has dried up and ESPN has begun the annual ...
May 18, 2010
One thing we have learned under the new Bruce Allen/Mike Shanahan regime is that the Washington Redskins have taken a more passive approach to spending in free ...
April 5, 2010
With Philadelphia Eagles QB Donovan McNabb being dealt to the Washington Redskins for a second-round pick in 2010 and a third- or fourth-rounder in 2011, the order in the NFC ...
April 3, 2010
Washington Redskins RB Clinton Portis certainly didn't receive a free pass when new head coach Mike Shanahan came to town in January. Shanahan came to the Redskins announcing that there would be competition at every position ...
April 1, 2010
Recent rumors have linked the Washington Redskins to NFL draft prospect Tim Tebow. Of course, with the rumors has come plenty of speculation as to what the Redskins drafting Tebow would mean for the ...