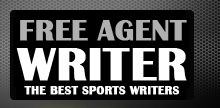 Yankee Addicts
Categories
Featured Sponsors
News published by
July 27, 2010
ESPN reported earlier today that Terrell Owens has agreed to a one-year, $2 million contract with the Cincinnati Bengals. The 36-year-old wideout gives the Bengals another deep threat to compliment ...
July 27, 2010
T.O. as a free agent is a big deal. A member of the NFL's All-Decade team, Terrell Owens is unquestionably one of the most talented receivers of our generation. But he's not ...
June 10, 2010
Yes, talking about Brett Favre during the NFL's offseason is like beating a dead horse. But never before has such a key player in the league been so unpredictable. Once again, ...