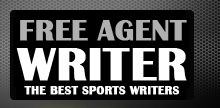 Yankee Addicts
Categories
Featured Sponsors
News published by
August 6, 2011
Football season has officially begun. The Carolina Panthers have their Fan Fest today which, besides featuring many fan interactive activities, mainly features a practice for the Carolina Panthers from 4:00 p.m ...
April 26, 2011
That's a good question.  Now that the lockout is over (thank goodness), what are the Arizona Cardinals going to do about their quarterback, or lack thereof? Now, granted, the lockout may not ...
April 9, 2011
It's always good to have an idea of what you're doing before you go and do something right?Wait...I forgot...Except when you're assembling something. Do guys ever read instruction manuals?Naaaaahhh...But, if you're ...
April 8, 2011
Has anyone not heard the story of Tom Brady by now?How the Patriots got him in like the millionth round? I mean, if we compared where the Colts drafted Peyton to ...
March 11, 2011
I love late round steals, don't you?New England Patriots fans do (two words...Tom and Brady).But the Cardinals have had their share of late-rounders who have contributed, most notably LaRod Stephens-Howling ...
March 2, 2011
Ah yes.The combine.No other sports preseason combine is as highly monitored as this one.And let's face it—you can make your fame (Mike Mamula anyone?) or lose it at the combine.And ...
February 18, 2011
Is it time for the combine yet?Seriously, let's get this crap with the CBA, the players union and the owners over with.It's ruining all the fun put into the NFL ...
January 24, 2011
I know that the offseason is what many people who hate the NFL can't stand the most.But those who love pro football really love the offseason.All our hopes and dreams ...
January 12, 2011
The good news about a rough season like this one?(Other than the fact that if we won 3 more games, we could've won the division...)The Cardinals get a high draft ...
November 17, 2010
There are losses in the NFL. Every team loses. Well, except the '72 Dolphins. Some losses are just hard to take. This is one of them. I've been dreaded this article. I ...