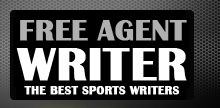 Yankee Addicts
Categories
Featured Sponsors
News published by
November 30, 2010
During last night's embarrassingly bad Monday Night Football game between the Arizona Cardinals and the San Francisco 49ers, our favorite trio of "bottle is half full" commentators needed something to ...
March 20, 2010
Eric Berry is a saftey out of the University of Tennessee. He is the top safety on nearly everyone's draft board. And he is a projected first round pick, most likely being ...
March 12, 2010
Before the combine, all every one was talking about were the two All-American defensive tackles and their chances to be the first two pick in the draft. A few weeks later, ...