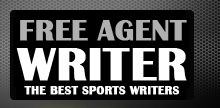 Yankee Addicts
Categories
Featured Sponsors
News published by
February 19, 2011
Well, draft season is now in full swing.With the combine and pre-draft workouts next up on the docket, it's time for me to post my first mock draft installment.I'm Jack ...
August 3, 2010
With the 2010 NFL Draft firmly in the rear view mirror, the only rational thing left to do is to look ahead to 2011. Summer workouts are in full swing, ...
August 1, 2010
This year as with any year, there will be a great deal of pressure put on former first round picks. Whether it's to finally break out, fill the role of ...
March 10, 2010
In this slideshow, I will be breaking down the New England Patriots draft picks through round 3 in the upcoming 2010 NFL Draft. The Patriots are one of the smartest ...