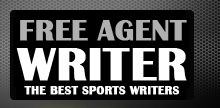 Yankee Addicts
Categories
Featured Sponsors
News published by
September 12, 2015
The Arizona Cardinals face a stern test as they open the 2015 season at home against the New Orleans Saints on Sunday afternoon, an opponent with whom they can expect ...
September 2, 2015
The Arizona Cardinals wrap up their preseason schedule against the Broncos Thursday night in Denver, and they'll be looking to build a little momentum for the regular season. It's been a ...
August 23, 2015
The Arizona Cardinals saw the preseason record drop to 0-2, as they lost 22-19 to the San Diego Chargers, thanks to kicker Josh Lambo's 47-yard field goal as time expired. Had this been ...
August 20, 2015
After struggling in their preseason opener, the Arizona Cardinals will look to rebound Saturday night against the San Diego Chargers in Glendale. It will be a challenge for the team ...
August 17, 2015
Sportswriters used to hold a romantic fascination of what it was like to be a boxer, so much that George Plimpton once took a blow from Archie Moore to know ...
August 16, 2015
The Arizona Cardinals got their preseason campaign underway in underwhelming fashion Saturday night, losing at home 34-19 to the Kansas City Chiefs. It wasn't particularly pretty, and it wasn't particularly ...
May 23, 2015
Imagine being the 20th-most productive individual at your given profession last year and having that be considered a disappointment. Such is the plight of Cincinnati Bengals wide receiver A.J. Green, ...