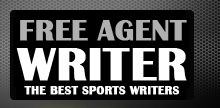 Yankee Addicts
Categories
Featured Sponsors
News published by
July 7, 2010
The past few seasons have been a string of lackluster performances for the Oakland Raiders. Each year starts with little to hope for, and ends with a bottom of the barrel ...
July 4, 2010
After a highly anticipated and promising career turned into a train wreck and a failure, it seemed that Mike Williams was done. But after a two year absence from the ...
June 5, 2010
Let's face it: The Seattle Seahawks are just not what they used to be. Last year they were 5-11, and in 2008 they were a woeful 4-12. Just a few ...
May 29, 2010
Every year in the NFL, a new class of rookies enters the league, many of whom will make a difference for their respective team a few years down the road. ...
May 18, 2010
Over the past few years, many standout players have emerged onto the scene and become some of football's best and most exciting players. Among them have been Adrian Peterson, Chris Johnson, ...