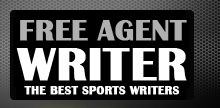 Yankee Addicts
Categories
Featured Sponsors
News published by
August 4, 2012
Blake Costanzo came into the NFL in 2006 as an undrafted rookie with the New York Jets.He spent 2007 on the practice squad in New York before moving to Buffalo and ...
July 24, 2012
The Bears signed undrafted rookie WR Chris Summers a day after the 2012 NFL draft.Summers attended Liberty University, where he became the program's all-time career leader in receptions (188), receiving yards (2,712) ...
July 24, 2012
The Bears' secondary stayed relatively healthy last season. Charles Tillman was voted to his first Pro Bowl after posting yet another solid season.Tim Jennings proved to be a consistent tackler ...
July 21, 2012
The Chicago Bears' offensive line certainly hasn't been steady the past couple of seasons.ESPN analyzed that the Bears allowed a sack every 10.5 dropbacks over the past two seasons. The ...
June 23, 2012
Nike's North Side-South Side Softball Challenge took place in Lincoln Park on Thursday and the two coaches of the team were Johnny Knox (North Side) and A.J. Pierzynski (South Side).The game was ...
May 15, 2012
Chicago Bears quarterback Jay Cutler had his team sitting pretty with a 7-3 record 10 games into the 2011 season.Then a broken thumb against the San Diego Chargers in Week ...
February 11, 2012
2011 was a solid season for the Bears cornerbacks, at least for the most part.The cornerbacks as a whole posted 12 interceptions. D.J. Moore led the way with four interceptions.Charles ...
November 26, 2011
The Bears defensive line didn't put together a very good performance last week against San Diego.They didn't really get much pressure on Chargers QB Phillip Rivers until the fourth quarter.Defensive ...
September 10, 2011
Pisa Tinoisamoa and Jamar Williams are two linebackers the Bears are very familiar with. The Bears could look at one of them to provide some depth at a position of importance.Tinoisamoa spent the ...
April 21, 2011
Could free agent wide receiver Mike Sims-Walker be playing in the Windy City in 2011?Would he be a good fit in Mike Martz's offensive system? Lets first take a look at what ...