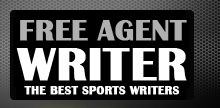 Yankee Addicts
Categories
Featured Sponsors
News published by
September 11, 2015
J.J. Watt-mania has reached such absurd levels, nothing is too ridiculous. Ask Houston Texans fans how they feel about the two-time NFL Defensive Player of the Year and you'll get ...
August 16, 2015
Pittsburgh Steelers linebacker James Harrison has built a reputation as one of the NFL's hardest workers. After going undrafted in 2002 and getting cut numerous times early in his career, ...
August 16, 2015
It took a few plays for Jameis Winston to finally get his first NFL completion, but when it came, boy did it make some noise.With two minutes and 45 seconds ...
August 16, 2015
One of the best storylines of the NFL offseason has been the return of Eric Berry. The Kansas City Chiefs safety was cleared to resume practicing in late July, less ...
August 15, 2015
One would think that a 103-yard kickoff return would stand alone on a highlight reel, but thanks to Pete Carroll, we have so much more.On Friday night during the Seattle ...
August 9, 2015
Former defensive end/linebacker Charles Haley was inducted into the Pro Football Hall of Fame on Saturday. During the ceremony, the charismatic five-time Super Bowl champion heaped some praise on one of ...
July 17, 2015
Adrian Peterson was indicted on charges of child abuse early in the 2014 NFL season, resulting in him only participating in the first game.The 2012 NFL Most Valuable Player ultimately pleaded no contest ...
July 12, 2015
Arizona Cardinals safety Tyrann Mathieu has proven he's a good football player, but his talents don't end there. The "Honey Badger" took to Instagram on Saturday to show off an impressive ...
June 6, 2015
Dallas Cowboys wide receiver Dez Bryant has proved to be one of the most athletic physical specimens in the NFL. On Friday, he showed his talents are not confined to ...
March 21, 2015
Denver Broncos running back C.J. Anderson exploded onto the NFL scene in 2014, amassing 849 yards and eight touchdowns on the ground to go along with 324 yards and two ...