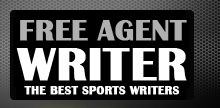 Yankee Addicts
Categories
Featured Sponsors
News published by
August 13, 2014
It's mid-August. Do you know who your running back handcuff is? Knowing is especially important when your draft is early and your preseason NFL game viewing ritual includes crossing your fingers ...
November 2, 2013
Jared Cook and Jeff Fisher will welcome their old team, the Tennessee Titans, to the Edward Jones Dome in Week 9. Expect the big tight end to be featured against ...
August 13, 2013
Maybe it was the 2012 pairing with Steven Jackson that inspired a reflexive, contrasting perception of Daryl Richardson's game. The St. Louis Rams' rising sophomore running back is about four ...
June 26, 2013
NFL dynasties aren't built in a day—or a year, or two years—but the St. Louis Rams are filling out their application to be the next one. Two short seasons ago, ...
January 23, 2013
Although the Super Bowl has yet to be played, we are weeks away from the NFL Scouting Combine: a breeding ground for excitement for hyper-athletic incoming rookies. That hype machine ...
January 20, 2013
Michael Crabtree has scored a pair of touchdowns for the San Francisco 49ers in three of his last four games, including the playoffs. He should be a strong fantasy football ...
January 13, 2013
Adrian Peterson was the only unanimously selected offensive NFL All-Pro team member, according to Gregg Rosenthal of NFL.com. The Associated Press got this one right, but honors awarded to the ...
January 6, 2013
An apt summary of the Cincinnati Bengals' 2012 campaign is that they have been equal parts promising and frustrating. Cincinnati has a young core with a defense that was playing ...
January 6, 2013
Ugly wins are still better than pretty losses, but the Houston Texans' wild-card victory over the Cincinnati Bengals may be a long-term setback for the franchise. The Texans don't have ...
January 2, 2013
Lovie Smith should not have been fired as head coach of the Chicago Bears. He's simply not one of the worst coaches in the NFL, having won at least seven ...