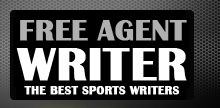 Yankee Addicts
Categories
Featured Sponsors
News published by
May 18, 2013
What if the stars of the New England Patriots' prolific offense were playing...on defense?What position would Rob Gronkowski play? Tom Brady?Strange thought, I know.The Patriots' OTAs are still a ...
May 11, 2013
The New England Patriots' defense will be much better in 2013 than it was in 2012.From this writer's perspective, there is a case to be made that each defensive position ...
May 4, 2013
With their draft selection of Marshall wide receiver Aaron Dobson, the New England Patriots may have finally found the missing piece to their offensive attack: a big outside threat.Dobson has ...
February 27, 2013
Most fans and writers (including this guy) would agree that the New England Patriots need to upgrade the other starting safety spot alongside Devin McCourty, but are we ...
October 24, 2012
An NFL season wouldn't be an NFL season without an abundance of weekly predictions and Week 8 is no different, my friends.Highlighted by Sunday night's quarterback showdown where the Peyton ...
October 13, 2012
The New England Patriots meet the Seattle Seahawks this Sunday at CenturyLink Field, as the NFL's best offense and the NFL's best defense will clash in the nation's loudest stadium.With ...
August 29, 2012
After an uninspiring performance against the Buccaneers last Friday, there will be plenty for fans to keep an eye on in the Patriots' preseason finale against the defending ...
August 12, 2012
If the preseason game against the New Orleans Saints was any indication, New England's offensive line is in trouble. Without Logan Mankins, Sebastian Vollmer and Brian Waters—arguably the team's top-three ...
July 31, 2012
It wouldn't be training camp without some heavy predicting, and the latest topic of discussion is the New England Patriots' running back group. With the departure of BenJarvus Green-Ellis, the ...
July 29, 2012
Saturday was the first day of full-pads practice at New England Patriots training camp, and judging by the massive crowd, Patriot Nation was eager to see some tackling. Just missing ...