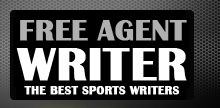 Yankee Addicts
Categories
Featured Sponsors
News published by
April 29, 2016
Scot McCloughan threw something of a curveball when he selected TCU wide receiver Josh Doctson 22nd overall in the 2016 NFL draft, shunning many of the beefy defensive tackles who ...
April 28, 2016
Eight picks represent eight chances for Washington Redskins general manager Scot McCloughan to further improve a roster he shaped into an NFC East champion a year ago. At least one of ...
April 27, 2016
The Washington Redskins will enter the 2016 NFL draft with eight opportunities to further bolster a roster good enough to rule the NFC East last season. But general manager Scot McCloughan ...
April 25, 2016
It says a lot about the current stable state of the Washington Redskins that so many draft experts are in agreement about who the team should pick 21st overall. Take as ...
December 30, 2015
Fresh from sealing only the third NFC East title since the franchise's last Super Bowl win, the Washington Redskins can count on several key performers headed into the playoffs. On offense, ...
December 28, 2015
When Jay Gruden chose Kirk Cousins as his starting quarterback for the 2015 NFL season, he wasn't just gambling on a fourth-round pick with a history of throwing interceptions. Gruden was ...
December 27, 2015
The Washington Redskins, 2015 NFC East division champions, are ready for the playoffs. This team boasts a potent offense capable of thriving in postseason football. Success on that side of the ...
December 22, 2015
Sometimes perception isn't reality. Just ask Bruce Allen, team president of the Washington Redskins. One season after being stripped of his general manager duties, Allen is looking on as the ...
December 21, 2015
Kirk Cousins is beginning to look like a playoff-caliber quarterback for the Washington Redskins. Defenses certainly can't cover his favorite weapon, tight end Jordan Reed. The duo put the Buffalo Bills ...
December 18, 2015
How do you cover and contain a wide receiver who has caught 14 passes for 358 yards and four touchdowns in his last three games? That's the challenge facing the Washington ...