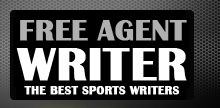 Yankee Addicts
Categories
Featured Sponsors
News published by
March 22, 2011
Everybody makes a mock draft around this time of year, and we all are wrong. I have to wonder if there ever has been anyone who wrote a mock draft ...
February 17, 2011
According to Michael Lombardi of the NFL Network, the New York Jets are so focused on keeping Santonio Holmes and Braylon Edwards that they are willing to let cornerback Antonio ...
July 21, 2010
L.J. This one's for you man. Horrible? Not a top 100 quarterback in NFL history? Only in because of a guarantee? That's the words I've heard when it comes to a lot ...
June 16, 2010
Scalpel? Check. Drill? Check. Paralyzing agent? Check. Anesthesia? No? Well, I don't think he deserves it. Let the "Tearing a New One," operation for Albert Haynesworth begin. Albert Haynesworth has never done anything to make this ...
June 11, 2010
There has never been a bigger soap opera star at the wide receiver position than Terrell Owens, and I dare anyone to find a close second. We've had chatterboxes like Shannon ...
June 8, 2010
The thing that is great about sports is that to the fans point of view, there is pure evil and eternal goodness. A Packers fan may envision heaven as Lambeau Field ...
May 12, 2010
When I was a sophomore in high school, I was in my Algebra II class with some seniors, very few sophomores, and the vast majority juniors. We had a great teacher ...
April 19, 2010
The game of football is like fighting in World War I. You win by controlling the trenches. If you can control the main part of the event, you will be ...
April 13, 2010
The Houston Texans are a franchise that had mountain ranges to cross from day one really. They come into a city that is tired of losing. They had been a ...
April 8, 2010
What can I say about the Bengals? They are a confusing team to me because of how they have changed themselves in the way they play football while still having ...