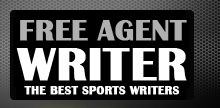 Yankee Addicts
Categories
Featured Sponsors
News published by
September 14, 2010
Winning the Super Bowl is hard work. Guys named Montana, Bradshaw, and Brady might not believe that, but it's true. For most all QBs, a championship doesn't come easily…if ever. ...
September 3, 2010
"Anything short of a championship this year is a failure."You hear that cliche tossed out there every now and then. I happen to not think it's true at all, but ...
August 26, 2010
The following is a list of the 10 teams who had the most magical, out-of-nowhere-success-story seasons in the Super Bowl era.Please know that teams such as the 1968 Jets and ...
August 9, 2010
For most sports fans in this town, passion usually takes precedent over patience. You might have known that already…. But 2010 is not a make-or-break season for the Birds, and evaluating ...
August 5, 2010
Dear Coach Shanahan, I know you've dreamed about shaking President Barack Obama's hand. You've dreamed of leading the Redskins to the White House...with the Lombardi Trophy in your grip. Your ultimate goal ...
May 25, 2010
I know what you're thinking: This is ridiculous. I know it is. It's May. But, as any fan would have to admit, it's fun. There's always something outrageously fascinating about ...
May 22, 2010
Career politicians are all great at one thing: Double talk. They're good at backtracking statements and clearing up word-choices or so-called misunderstandings about all kinds of political footballs. But Pennsylvania Governor Edward G. ...
April 27, 2010
Not the most original idea, I know. Just figured this would be some fun. From a ratings standpoint, ESPN's draft coverage was a huge success. 7.2 million people tuned in on ...
April 18, 2010
The start of the Phillies' 2010 season marked the official beginning of a new decade of pro sports in Philadelphia. And just 17 hours before Opening Day, the Eagles perhaps ...
March 3, 2010
Hey everyone. This is Part Two of My 10 greatest victories in Saints' history. Part One, Victories 10 through 6, was released last Saturday (Feb. 28). I present to ...