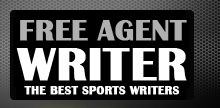 Yankee Addicts
Categories
Featured Sponsors
News published by
July 23, 2010
The NFC East has long held a reputation as one of the toughest divisions in football. While other divisions around the NFL have gone up and down in strength over the ...
July 22, 2010
In 2009 the Seahawks couldn't run the ball to save their lives, much less a football game. Blame it on Jim Mora. Blame the Swiss cheese they used for an ...
July 21, 2010
If you can name every receiver on the Seahawks roster at the moment then my hat is off to you. There are currently 12 WRs on the 80-man roster, and ...
July 17, 2010
When it comes down to it, every game is a "must-win" at the NFL level. But some wins are key. We've all heard sports announcers say, "This is a definite ...