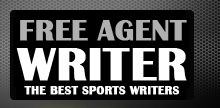 Yankee Addicts
Categories
Featured Sponsors
News published by
September 21, 2016
The NFL season is only two weeks old, but many teams have already given us a good idea of how this year will go. Most of the top Super Bowl contenders, ...
September 14, 2016
Monday morning overreaction time is over. There's no need to fire out any more of your hottest NFL takes about what you learned in Week 1. While it's dangerous to be ...
August 29, 2016
Week 3 of the NFL preseason is now in the books. However, teams will be staying active this week as they continue to trim their rosters down heading into the ...
August 26, 2016
The preseason is an interesting time for NFL fans. People finally get to watch their their favorite teams for the first time in several months, but it's sometimes hard to ...
August 1, 2016
The beginning of NFL training camps means holdouts, injury news and discussions on contract extensions. But there are still free agents on the market looking for deals. Some of the free ...
March 9, 2016
NFL teams came out of the offseason dead period with guns blazing Monday, agreeing to several trades and free-agent signings. Of course, they can't make any of those transactions official until ...
February 4, 2016
The seemingly endless wait for Super Bowl 50 is nearly over. On Sunday at 6:30 p.m. ET, the Carolina Panthers and Denver Broncos will kick off the biggest football game ...
January 18, 2016
After all of the hype surrounding many of the wild-card teams when the NFL playoffs started, we're down to the top two seeds in each conference, which goes to show ...
January 14, 2016
Eight teams are still standing in the NFL playoffs, with some playing better than others. Realistically, though, every squad remaining has a legitimate outside shot at taking home the Vince ...
January 11, 2016
Home-field advantage meant absolutely nothing in Wild Card Weekend of the 2015 NFL playoffs, as all four visiting teams won. Will the trend continue in the divisional round? Four juicy matchups ...