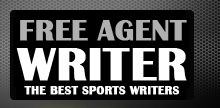 Yankee Addicts
Categories
Featured Sponsors
News published by
September 29, 2010
"I don't care what you've seen on television. There will be no hazing here. And if you think I am bullshitting you, ask your captain. ...
May 18, 2010
Disclaimer For the remainder of this piece, I am going to insinuate that $550,000 is not a lot of money. I would like to take a second to ...
February 24, 2010
Americans seem to try their damnedest to not take after the British. After all, it's how America was founded. But in terms of substance abuse policy ...