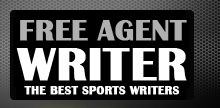 Yankee Addicts
Categories
Featured Sponsors
News published by
February 5, 2011
Today is the first day I've felt that I needed to talk about what's been going on with my personal medical condition. Every time I encounter a die-hard Raider fan I get ...
January 4, 2011
Well, there you have it ladies and gentleman, not a perfect season but one to remember.  I want every Raider fan to know even though it seems like the Oakland Raiders always have ...
December 6, 2010
Holding a grudge is a bad idea and we learn as kids to forget and forgive, thank God that doesn't apply in the game of football.  I don't know what ...
November 12, 2010
Raider Nation will always push for the best. During last Sunday's game against KC, Raiders fans everywhere showed everyone in the country that the Nation will never die. I have played in almost ...
October 23, 2010
There is a new rule in town, "don't touch any ones helmet." It started with the QB and now, is being in forced on the rest of the team.  Everyone knows ...