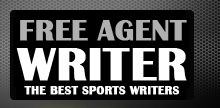 Yankee Addicts
Categories
Featured Sponsors
News published by
January 2, 2013
The New Orleans Saints aren't your typical below-.500 team because of the bounty sham, underachievers and players learning a new scheme on the defensive side of the ball. That's a ...
January 2, 2013
It's about that time again, guys and gals. Time for New Year's resolutions and fresh starts. Time to set goals to fix certain things in the past, whether it be ...
August 25, 2012
The New Orleans Saints and Houston Texans are now underway in the Mercedes-Benz Superdome. You can catch this action around the New Orleans area on Fox 8. I will be live-updating this post from ...
August 12, 2012
Travaris Cadet might not be a household around the league, but around Who Dat Nation his presence is being felt with his hard play and great athleticism. He is the ...
August 1, 2012
The 2012 New Orleans Saints training camp has kicked off, and despite the horrible offseason, the excitement surrounding the city of New Orleans has been electric. Quite possibly as electric as ...
July 11, 2012
The New Orleans Saints are going from a blitz-heavy, run-yourself-out-of-the-play type of defense to one more focused on using stunts and schematic measures, and Saints fans are going to notice ...
July 4, 2012
Looking around the NFC South, there aren't many players that really strike fear into Saints coaches. None of those players are on the defensive side of the ball, either.Because, let's ...
June 27, 2012
The New Orleans Saints signed some big names this offseason, mostly on the defensive side, and it's time to see which one will have the biggest impact on this new ...
June 26, 2012
Since Twitter's birth in the summer of '06, there have been plenty of notable NFL plays that have caused people's timelines to go crazy. The David Tyree catch. Megatron's "non-catch."But ...
June 20, 2012
Robert Meachem is off to San Diego to replace Vincent Jackson as their primary receiver. That leaves a big hole on the other side of Marques Colston. And the inconsistent ...