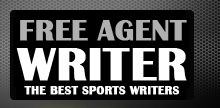 Yankee Addicts
Categories
Featured Sponsors
News published by
April 18, 2010
According to Chris Mortensen of ESPN, the Giants are shopping DE Osi Umenyiora this off-season. Osi has publicly voiced his desire to be a starter, but last year he was ...
March 14, 2010
After the signing of Jake Delhomme and trading for Seneca Wallace, many people wondered what would happen to former first-round pick of the 2007 draft, Brady Quinn. Many reports have said ...
March 5, 2010
The Jets have shown interest in adding another cornerback to pair with Darrelle Revis. According to Fox's Jay Glazer and ESPN's Adam Schefter, the Jets are close, if not agreed upon ...
March 4, 2010
The Cardinals have said they would take offers for Anquan Boldin for the past three offseasons.  Cardinals' GM Rod Graves said they would be willing to part with Boldin this ...
February 28, 2010
  According to Adam Schefter, of ESPN, former top-10 draft pick from Miami University, Antrel Rolle, will be released sometime this week. Rolle is due to earn a $4 million ...
February 26, 2010
Last off-season, the Cardinals passed on a package to trade Boldin, sources say they were never really close to trading him. Now the Cardinals are shopping Boldin again and will take less in ...
February 25, 2010
As the NFL Combine started yesterday, rumors are flying in, including the possibility of the Miami Dolphins signing linebacker Karlos Dansby. According to Greg Bedard of the Milwaukee Journal Sentinel, via ...
February 23, 2010
The 2010 NFL scouting combine (which starts Wednesday, Feb. 24th, with live press conferences scheduled for 11 a.m. PST on Thursday, Feb. 25th in Indianapolis) will have over 300 of the ...