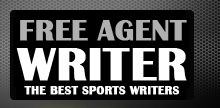 Yankee Addicts
Categories
Featured Sponsors
News published by
August 14, 2015
Once upon a time, the Tampa 2 defense was the calling card of the Tampa Bay Buccaneers. It can be again under head coach Lovie Smith, but one thing stands ...
July 14, 2015
With training camp right around the corner, the Buccaneers roster is already taking shape. Pre-camp roster predictions are always a little premature, but the Bucs' offseason moves have painted a generally ...
July 7, 2015
Training camp is always full of surprises. As usual, the Tampa Bay Buccaneers have a handful of players who could emerge as significant additions to the final roster. Last year exposed ...
June 30, 2015
Buccaneers training camp is only weeks away, and nearly half the roster will be gone before September. For those who don't make the final 53-man cut, they will hope they ...
June 26, 2015
Lovie Smith's return to Tampa Bay last year failed to immediately resurrect the Buccaneers' Super Bowl-caliber defense. Pass rush or lack thereof was a key contributor the Bucs' struggles last ...
June 16, 2015
The Buccaneers are ready to turn the page to the next chapter of Lovie Smith's tenure as Tampa Bay's head coach. With less than three months until the start of ...
June 2, 2015
The Tampa Bay Buccaneers didn't have much to boast about following last season's 2-14 finish. Though they still have a ways to go to become a contender, they do have ...
May 26, 2015
The Tampa Bay Buccaneers have a storied but sketchy history with first-round quarterbacks. Taking Jameis Winston with this year's first overall pick could finally give them their first true franchise quarterback. Winston ...
May 12, 2015
Every year, free agency and the draft sow the seeds for a new crop of Buccaneers. They also purge the roster of obsolete players and give notice to veterans whose ...
May 8, 2015
The Tampa Bay Buccaneers began the 2015 offseason with a slew of roster needs. Though they addressed a majority of their major gaps, the Bucs still have some upgrades to ...