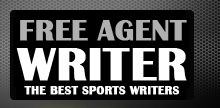 Yankee Addicts
Categories
Featured Sponsors
News published by
March 4, 2011
"I see myself not only as a football player, but an entertainer and icon." In the words of Scooby Doo, "Ruh-roh." It is understandable, albeit slightly contradictory to the nature of professional ...
February 25, 2011
While it is irresponsible to judge an athlete—particularly one belonging to a sport so heavily influenced by intangibles—simply by his ability to run in a straight line, it is sometimes ...
February 11, 2011
With the cream of this year's crop of draftees being mostly Juniors, no single top prospect has been able to separate from the pack yet, Von Miller's Senior Bowl ...
February 10, 2011
With the 2011 NFL Combine not even underway, it's time for the hype machine for 2012 to begin!  While the 2011 Draft is stacked with quality defensive players the 2012 ...
February 4, 2011
With the 2010-11 football season wrapping up, it is time for teams to look back on their year and analyze what is going right and what is going wrong to ...