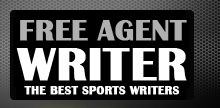 Yankee Addicts
Categories
Featured Sponsors
News published by
December 30, 2010
It comes down to this: Beat Jamaal Charles and the Kansas City Chiefs in week 17 and the Oakland Raiders will go 8-8 overall and 6-0 in division.This would mean ...
November 29, 2010
The injury riddled Oakland Raiders were trounced 33-17 by the Miami Dolphins on Sunday in Oakland. The score doesn't tell the story of just how lopsided this game was.The Raiders ...
November 26, 2010
Following a brutal loss to the Pittsburgh Steelers, Richard Seymour, Darren McFadden and the rest of the Oakland Raiders return home to take on a desperate Miami Dolphins team.At 5-5, ...
November 22, 2010
No fire, no passion and no offense sums up the Oakland Raiders 35-3 loss to the Pittsburgh Steelers.I must say, as a Raider fan for nearly 38 years, I was ...
November 8, 2010
The game between the Oakland Raiders and Kansas City Chiefs was truly a "tale of two halves."The Raiders looked horrific in the first half. They gave the Chiefs five first ...
November 4, 2010
This Sunday, Jamaal Charles and the surprising Kansas City Chiefs will head to Oakland Coliseum to take on red-hot Darren McFadden and the resurgent Oakland Raiders.The Raiders are playing for ...
October 31, 2010
Welcome NFL fans to the live play-by-play blog of the Week 8 meeting between the Seattle Seahawks and Oakland Raiders. I'm Jay Dee, featured columnist for the Raiders. Therefore, expect ...
October 28, 2010
The Oakland Raiders are riding high after the complete destruction of their hated rival, the Denver Broncos, last Sunday.This week, the Seattle Seahawks come to Oakland County Coliseum to take ...
October 21, 2010
The Oakland Raiders will travel to the Mile High city to take on the Denver Broncos on Sunday, October 24th.Every remaining game are "must wins" for the Raiders after falling ...
October 18, 2010
Okay, I'm thinking now might be a good time to panic! Jason Campbell has not been the answer at quarterback, Rolando McClain and Lamarr Houston have helped, but not cured ...