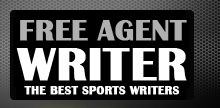 Yankee Addicts
Categories
Featured Sponsors
News published by
March 2, 2011
Being a good football team means making tough decisions, and that is exactly the type of decision that the Jets made today. The team has decided to release Damien Woody, ...
February 19, 2011
After another dismal season in 1996, going 1-15, the New York Jets hired Bill Parcells to coach the team.  The legendary coach engineered an eight-game turnaround, and nearly made the ...
December 28, 2010
Calendar year 2010 was one of the best years in New York Jets' football history.  Owner Woody Johnson has spent his money to ensure that the Jets are no longer the league's ...
December 13, 2010
Keep yapping, Rex.  It's tough to win without scoring touchdowns.  For the second straight game, the Jets were held without a touchdown. Last week, the Jets couldn't solve the mystery of the ...
December 9, 2010
In his post game press conference, Rex Ryan referenced a 1985 Bears' blowout loss to Miami in a Monday night game as a comparable to Monday night's loss to New England. He ...
December 4, 2010
The Jets face their biggest test of the season when they head to Foxboro Monday night for a showdown with the Patriots.If the Jets want to win this division and ...
November 9, 2010
For one week and three-quarters of football, you saw the downside of having Rex Ryan as a head coach.  On HBO's Hard Knocks, Ryan made a speech about the possibility of getting your opponent's ...
October 29, 2010
Everyone knows the big-time NFL coaches.  From Bill Belichick to former coaches like Jon Gruden and Bill Cowher, each one of them knows that they are nothing without top-flight coordinators.  ...
October 14, 2010
On a rainy and stormy night that saw the start of the game delayed for about 45 minutes, the Jets held off a late Vikings rally to win their fourth ...
September 28, 2010
Championship caliber teams all have one thing in common: they find a way to win.  While this seems elementary, most teams have a style that the game needs to take in ...