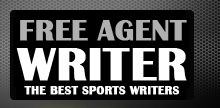 Yankee Addicts
Categories
Featured Sponsors
News published by
April 21, 2011
For the Tampa Bay Buccaneers, the NFL labor issues can't be resolved quickly enough. A young team with a bevy of budding stars and a ton of momentum can simply ...
September 13, 2010
The season got off to a dramatic start yesterday with the Bucs 17-14 victory over the Cleveland Browns. Still, if you look around the league, the opinion of the team hasn't ...
August 15, 2010
This article originally appeared in the Pewter Report. Another football season is on the horizon. We're now seeing the crack of helmets and pads slamming into one another in a glorious ...
August 15, 2010
This article was originally printed in the Pewter Report. I was too young to remember Buccaneer great Lee Roy Selmon. I was three when he took his first snap in ...
August 15, 2010
Moments matter in preseason football more than the outcome. The Tampa Bay Buccaneers lost their opener to the Miami Dolphins in a soggy 10-7 in a game that's likely to ...
July 9, 2010
As the pundits make their previews of the Tampa Bay Buccaneers for the 2010 season, the common thought among them is the Buccaneers are in trouble with their running game. With ...
July 8, 2010
He sliced through the defensive secondary like a knife through butter, melting away his coverage and firing into the air to come down with a one handed circus catch that ...
April 18, 2010
We've already chronicled the Bucs worst draft picks in a previous top ten, now let's talk about the very best picks in franchise history. These are the players that have led ...
April 16, 2010
Michael Clayton, Maurice Stovall, Sammie Stroughter, and Mark Bradley. That's your top four wide receivers, Tampa Bay fans. However, if the Tampa Bay Buccaneers parted ways with their second- and fifth-round ...
April 12, 2010
Few franchises have the rich draft history of busts as the Tampa Bay Buccaneers have mastered in the 34 year history of the franchise. Tampa Bay has perfected the art of ...