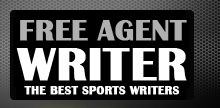 Yankee Addicts
Categories
Featured Sponsors
News published by
December 13, 2014
One thing about me? I'm a good sport. Therefore, when my 3-1 week was negated by my column rival, mathematician extraordinaire and founder of Big Time Sharps professor Bill Davis and his identical record, ...
December 6, 2014
My predictions have reached the point where I share the same path as the Carolina Panthers: I started out okay, have been quite terrible lately and yet, somehow, have delusions ...
November 15, 2014
In my column last week, I pulled a George Costanza—and it worked to near perfection.  Yes, like George, when it has come to predicting outcomes of football games this season, nearly ...
November 8, 2014
A wise man once told me, "Live a life of progress, not perfection."  Last week, I wound up correctly picking a game. Considering I blanked the week prior, that's progress!  This time ...
November 1, 2014
If you love scoring, last week's NFL action was a beautiful thing.  If you read this column, it was just plain ugly.  My picks pulled a big ol' goose egg. Yet, for ...
October 25, 2014
It's part art. It's part science. It's mostly awesome. That's the world of sports gambling. And this time around, my art will be going up against a professional bettor's science. In one ...
October 20, 2013
Playing the hated Dallas Cowboys with first place in the NFC East on the line might not be the only thing at stake for the Philadelphia Eagles' Nick Foles.  In 40 ...
October 16, 2013
I feel like we've been here before.  Wasn't it just a few years ago—2010 to be precise—when the Philadelphia Eagles were mired in a quarterback controversy? One that featured Mike Vick ...
October 5, 2013
The 1-3 Philadelphia Eagles! The 0-4 New York Giants!  Can you feel the excitement?! No? Can't say I blame you.  In a season that's gone south in a hurry for two NFC East ...
October 2, 2013
When the answers are running short, questions are all we have. That's where we're at now with the Philadelphia Eagles a quarter of the way through the 2013-14 season.  This means ...