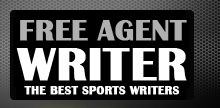 Yankee Addicts
Categories
Featured Sponsors
News published by
August 13, 2011
As preseason kicks off this week in the NFL, so too does the now-yearly ritual that is known as fantasy football.  As fans start to look over the depth chart ...
April 21, 2011
When the 2011 NFL schedule was released last night, fans around the world immediately began to take a look at what their favorite teams would be facing in the season. Did ...
March 23, 2011
As NFL owners and players continue to debate how $9 billion should be split up, the one group of people not being talked about are NFL coaches. For coaches during the ...
March 16, 2011
When you consider what is going on around the world right now, a dispute between NFL owners and players regarding how $9 billion will be shared doesn't seem like the ...
February 16, 2011
Three weeks have passed and Bears fans have had the opportunity to calm down from the hysteria that consumed the city following the disappointing 21-14 loss in the NFC Championship ...
February 6, 2011
While most of the country continues to be set in a deep freeze, the anticipation to Super Bowl XLV is heating up in the Dallas area. With the ice finally ...
January 24, 2011
As football fans across the country begin to salivate over the great match-up of the Steelers and Packers, Chicago Bears fans are hurting and have apparently decided to ...
January 9, 2011
As the dust begins to settle over the NFL landscape, many people are still trying to convince themselves of what they witnessed in a cold soggy Seattle afternoon.   Matt Hasselbeck ...
September 24, 2010
As we get ready to watch our favorite teams clash this weekend, it's important to realize that Week Three is often one of the more important times in the NFL ...
September 20, 2010
It may be only two weeks into the NFL season, but many fan bases are already beginning to hit the panic button.How many people in Dallas and Minneapolis felt their ...