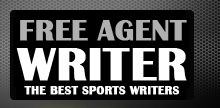 Yankee Addicts
Categories
Featured Sponsors
News published by
September 9, 2010
     For several years, Niners fans have endured chaos in the front office, coaching/coordinator carousels, bad decisions, poor play, and utter loss of hope, as they've watched their once dominant team ...
March 22, 2010
Heading into the 2010 draft, the 49ers have several decisions to make regarding the running back position. Frank Gore's status as the starter undeniable, but after that the picture gets ...
March 22, 2010
ESPN's Adam Schefter reports: "San Francisco's director of player personnel Trent Baalke will lead the 49ers into a critical draft in which the team is scheduled to have the 13th and ...
March 19, 2010
"Leave" Unlikely for McCloughan ESPN's Adam Schefter reported yesterday that McCloughan was, in fact, taking a brief leave of absence from his Niners GM gig to attend to personal matters. In actuality, ...
March 18, 2010
Just five weeks before the NFL draft, the San Francisco 49ers might be without their general manager Scot McCloughan. As reported earlier by the Santa Rosa Press Democrat , McCloughan met with 49ers upper ...
March 17, 2010
49ers sign Free Agent Cornerback Karl Paymah According to multiple sources, the San Francisco 49ers have signed free agent cornerback Karl Paymah, 27, to a one-year deal. Paymah has played five seasons ...
March 12, 2010
C.J. Spiller.  Unless you've been on another planet for the past three months, you know that he's the guy that Niners fans have been pining for in the upcoming 2010 NFL Draft.  The love ...
March 8, 2010
It's been said by many that Niners GM Scot McCloughan prefers drafting players based on size—the bigger the better. I've always assumed, though, that he'd be willing to make exceptions under ...