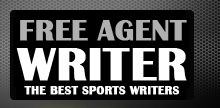 Yankee Addicts
Categories
Featured Sponsors
News published by
January 28, 2015
There is a lot riding on this offseason for the Detroit Lions. The brain trust of general manager Martin Mayhew, head coach Jim Caldwell and team president Tom Lewand (pictured ...
December 31, 2014
When the Detroit Lions visit Arlington to face off with the Dallas Cowboys, one of the keys to the elusive playoff victory is being able to run the football.  I know, ...
December 24, 2014
He doesn't get the notoriety of Ndamukong Suh or the growing national respect of DeAndre Levy, but the most important player on the Detroit Lions' highly ranked defense just might ...
December 10, 2014
Opposing teams are learning the hard way they cannot run against the Detroit Lions. The fearsome Lions defense is getting so good against the run that enemy offenses are reluctant ...
November 26, 2014
Linebacker DeAndre Levy was the NFC Defensive Player of the Month in September. The strong first month built upon Levy's breakout 2013 campaign, where he emerged as one of the ...
November 12, 2014
Lost in the hubbub of Detroit's heart-racing comeback win over the Miami Dolphins is how fantastic the Lions defense handled what had been a potent Miami offense. Miami entered the game ...
October 29, 2014
A little rain fell on the Detroit Lions in the middle of their incredible rally to stun the Atlanta Falcons in London. Defensive tackle Nick Fairley went down with a ...
October 21, 2014
The Detroit Lions improved to an impressive 5-2 with the Week 7 win over the New Orleans Saints. This win provided a great validation of general manager Martin Mayhew's work ...
October 15, 2014
Despite an impressive 4-2 start to the season, the Detroit Lions offense is sputtering below expectations. Much of the criticism falls on enigmatic quarterback Matthew Stafford and his inconsistent performance. Stafford ...
October 7, 2014
First-round pick Eric Ebron was a divisive pick among Detroit Lions fans from the moment the team selected him in May's draft. His performance in his first five games has provided ...