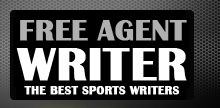 Yankee Addicts
Categories
Featured Sponsors
News published by
November 12, 2010
In between her frequent demands for more Backyardigans videos and her alarming tendency to use me as a punching bag, my three-year-old daughter will often ask her mother or me ...
September 10, 2010
Having just celebrated yet another birthday, I find myself in a reflective sort of mood.  One thing I think I've learned as I get older is how to make better ...
August 4, 2010
You know, a guy goes on vacation for a couple of weeks with his family and he tries to ease back into normal life, and suddenly, all hell breaks loose. I'm ...
July 2, 2010
Look, I know we haven't talked for a while. But I was a little afraid to call you. I know that the last few days have been tough. I heard about ...
May 17, 2010
As someone who has spent almost exactly half of his life living in the "Land of 10,000 Lakes" and half of his life living in "America's Dairyland," I know a ...
February 16, 2010
I can't say goodbye yet. There were so many high-profile sporting events this weekend.  There was the NBA All-Star Game in Dallas, which I believe was attended by more people than ...