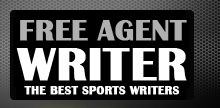 Yankee Addicts
Categories
Featured Sponsors
News published by
July 11, 2012
When the New York Giants lost starting tight end Jake Ballard to a torn ACL in the Super Bowl, they knew they needed to quickly find a replacement once free ...
May 30, 2012
Whether due to personality issues on or off the field, lack of production despite high hopes or a player dueling with management, there are a handful of frustrating players on ...
May 22, 2012
Fresh off a Super Bowl championship, the title defense officially begins Wednesday when the New York Giants have their first mini-camp. The rookie mini-camp was held a week and a ...
April 21, 2011
This is the second of my 2011 NFL mock draft series that will show case 16 picks all the way through the third round of the draft.If you missed the ...
April 17, 2011
It would be nice if the New York Giants somehow managed to have Tyron Smith fall to them with the No. 19 overall pick in the 2011 NFL Draft. But ...
April 6, 2011
The New York Giants went on a magical run to the Super Bowl in 2007 that nobody expected. That year in the playoffs, the team was clicking on all cylinders ...
April 4, 2011
Everyone loves a good rumor, and Tom Coughlin has been under the microscope more than anyone on the New York Giants in the past five years.After the 2006 season where ...
March 31, 2011
We've all heard who are the early round prospects and the players that are expected to go in the first and second rounds, but do you know of any potential ...
March 28, 2011
It's no secret that many feel Tom Coughlin should no longer be the coach of the New York Giants. I am not one of them, but I'm here to tell ...
March 22, 2011
Seeing as how the combine has come and gone and several Pro Days have happened, it seems as if we can narrow down the list of players the Giants will ...