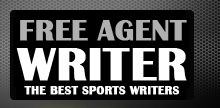 Yankee Addicts
Categories
Featured Sponsors
News published by
October 1, 2015
We've seen a beautiful mix of good, bad and ugly through just three weeks of the 2015 NFL season. While Adrian Peterson's comeback seems to be rolling right along, the ...
September 27, 2015
Week 3 is set to get underway, which means it's time to welcome Le'Veon Bell back into the action. While Bell hasn't played in 2015 due to his suspension, the question ...
September 20, 2015
It's officially time for Week 2 of the NFL season, which means two things. First off, get your Johnny Manziel jerseys on. Secondly, it's time to finalize those daily fantasy football ...
September 13, 2015
In the daily fantasy football world, there is simply no better way to start out your lineup than with a few good sleepers, or value plays. You don't have to ...
September 10, 2015
As the work week drags on for all of the fantasy football lovers out there, it's time to hand out some good news.It's officially time for some NFL football. There's ...
March 14, 2015
Darren McFadden is not DeMarco Murray, but the Dallas Cowboys won't need him to be. The Cowboys let Murray sign with the Philadelphia Eagles on an incredible five-year, $42 million ...
February 10, 2015
According to Mike Wilkening of ProFootballTalk, Peyton Manning is preparing to play in 2015. That's not quite the whole story, though, as Bleacher Report's Jason Cole reported the Denver Broncos may not want ...
February 7, 2015
Heading into the 2015 NFL draft, we have an Andrew Luck vs. Robert Griffin III type of debate, but even more intriguing. Jameis Winston and Marcus Mariota are almost certain ...
February 4, 2015
Johnny Manziel's love of the spotlight and enjoyment of partying has been apparent since before the preseason of his rookie campaign even began. According to Associated Press reporter Tom Withers, ...
January 6, 2010
Wild-card Weekend New York Jets  @ Cincinnati Bengals  (-3 )  Current Over/Under 34.5 Paul Brown Stadium, 4:30 PM ET on NBC In a 4:30 P.M. start this Saturday, Jan. 9, the first ...