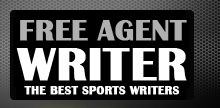 Yankee Addicts
Categories
Featured Sponsors
News published by
June 21, 2013
If there's any fanbase in the NFL that is immediately recognizable with by its attire, it's the Black Hole.But what identifies Raiders fans beyond the spikes, face paint and costumes?The ...
June 11, 2013
It's safe to say that 2013 is going to be an interesting year in Oakland.With a whole slew of new faces—most of them younger and unproven—there aren't a whole lot ...
June 4, 2013
As a week of OTAs has officially come to a close, the Oakland Raiders are inching closer towards the regular season as the roster continues to take shape.While the team ...
May 24, 2013
There are very few positions on the depth chart that could waver anywhere between the team's strongest position and their weakest, but, for the Oakland Raiders, that's exactly where the ...
May 14, 2013
For months, veteran cornerback and Oakland Raider great Charles Woodson waited for his phone to ring.In the months since the season ended, Woodson had received just one call: from the ...
February 16, 2013
When people are guessing, they say a lot of crazy things.To be fair, a lot of what I'm about to say is guesswork. The difference, however, is that I'm going ...
November 30, 2012
With news of Rolando McClain's dismissal fresh on their minds, the Oakland Raiders host the Cleveland Browns on Sunday in hopes of righting the ship and salvaging some pride this ...
September 25, 2012
For the first time this season, the Raiders won. Not coincidentally, it's also the first time the Raiders have two stars of the week. (Click here for Week 1 and ...