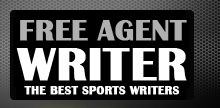 Yankee Addicts
Categories
Featured Sponsors
News published by
December 7, 2010
The weather is getting colder. The games are getting more meaningful, and the Patriots keep winning big games. Yup, sounds like December in the NFL. JWSB ...
November 30, 2010
It was a nice Thanksgiving break for the whole JWSportsBlog family. And I don't mean the people I work with, it's just me here. I mean my ...
November 23, 2010
A defining week in the NFL, and the NFC teams are really waking up. 1. New England Patriots (8-2) (#1 last week): In the game of the week, the ...
November 19, 2010
I have a SUPER BUSY week this week, so I will just pick some games without the "analysis". Honestly, does anyone read that anyway? North Carolina State 30, North ...
November 13, 2010
As a Cowboy follower, it has been rather frustrating watching Jon Kitna lead the offense the past few Sundays. In the preseason, we heard Jerry Jones tell us he ...
May 2, 2010
That would depend on the depth of your league and how it scores, however... He is the Receiver you are looking for. Moving on, the following ranking system is based on a ...