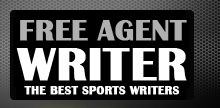 Yankee Addicts
Categories
Featured Sponsors
News published by
December 31, 2010
The B/R article generating program suggests I write a slide show for this particular subject matter. I disagree.  Slide shows are for idiots with ADD and if you don't have ...
May 30, 2010
For what seemed like an eternity, LaDainian Tomlinson was the consensus top pick in everyone's fantasy draft. It was so automatic that it became almost perfunctory. Then in 2007, along came ...
May 28, 2010
No wonder this planet is going to Hell, God is way too busy fixing the Grammy's and deciding who wins the Super Bowl to bother fighting the forces of Evil. I'm ...
May 12, 2010
Accurately predicting the Sleepers in Fantasy Football can prove to be almost as difficult as resisting the power of the Kavorka. However, I'm here to assist you in your quest to ...
May 9, 2010
"Back to school. Back to school, to prove to Dad that I'm not a fool. I got my lunch packed up, my boots tied tight, I hope I don't get ...