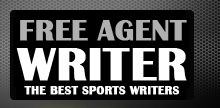 Yankee Addicts
Categories
Featured Sponsors
News published by
March 7, 2015
The front office of the Houston Texans could teach the CIA a few things about keeping secrets under wraps. General manager Rick Smith rarely tips his hand on any forthcoming ...
June 8, 2013
Organized training activities (OTAs) are often criticized as little more than glorified walk-throughs. Quarterbacks get to throw under token pressure, running backs recognize no one is trying to take their ...
May 18, 2013
The top story for the Houston Texans over the last 48 hours has been the history of Ed Reed's hip injury. John McClain, Texans beat writer for the Houston Chronicle, ...
March 23, 2013
On Wednesday, March 19th, the NFL Rules Committee made several significant rules changes.  Most were universally lauded as improving the game. The elimination of the tuck rule, allowing the officials to ...
March 2, 2013
Move over, Bud Adams and Tracy McGrady. Make room for the latest member of the "Most Reviled Athletic Figures in Houston Sports History." Matt Schaub has now been deemed worthless enough ...
September 30, 2012
The Houston Texans return to the friendly confines of Reliant Stadium to meet the Tennessee Titans. The history of these AFC South division rivals predates the entry of the Texans ...
July 14, 2012
When the NFL was founded in 1920, the most popular sports in America were baseball and boxing.Heavyweight champion Jack Dempsey was the most famous athlete in America that year, but ...