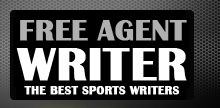 Yankee Addicts
Categories
Featured Sponsors
News published by
August 1, 2010
After reading various news stories about the Oakland Raiders defense and most importantly the new linebackers, I've been very impressed with what I've heard about Rolando "Ro" McClain. He's known as ...
July 25, 2010
It's very interesting reading various media content on the Internet about the Oakland Raiders and how most of the media consistently tab the Oakland Raiders as guaranteed losers simply because ...
July 17, 2010
  After reading a recent ESPN article on breakout WR's this year, I found it quite interesting that Mike Wallace of the Steelers is on this list, but somehow the writer ...
June 20, 2010
For the past several years, Oakland has loaded its roster full of players with so much potential yet have no work ethic or willingness to be great players. These players ...
June 13, 2010
Since Tom Cable has been named interim head coach he's been preaching the need for upgrading the trenches. Prior to the 2009 NFL Draft he was talking about wanting a ...
June 11, 2010
Each year, especially towards the end of the season, various players put up big numbers and these players become the talk of blogs and fan-based sites. Running backs who play ...
June 3, 2010
Hue Jackson, the new offensive coordinator for the Raiders, was hired to provide Oakland with better play calling and instill more confidence within this young team. Confidence and having the ability ...
May 29, 2010
If any coach in the NFL is on the hot seat this year, it has to be Josh McDaniels. A rookie coach who trades his Pro Bowl QB for an average ...