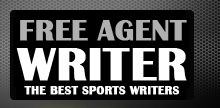 Yankee Addicts
Categories
Featured Sponsors
News published by
March 29, 2014
It's pretty simple why the NFL draft has become such a cultural landmark. Every team has the same chance to improve its roster. It represents hope. One pick can change a ...
March 29, 2014
The Pittsburgh Steelers have signed running back LeGarrette Blount, according to ESPN's Adam Schefter. Marc Sessler of NFL.com thinks that Blount and Le'Veon Bell will fit together quite nicely.  And he's right. ...
March 28, 2014
The Oakland Raiders signed running back Maurice Jones-Drew to a three-year deal, according to Adam Schefter of ESPN. Jones-Drew told the official Raiders Twitter account that his main goal is winning: Whether ...
December 28, 2013
Only eight teams are secure in their playoff destiny as we enter the final week of the NFL season. There are four spots remaining and 10 teams in the mix.  So ...
November 9, 2013
Well, what a week it's been in the NFL. Between the Miami Dolphins saga, the medical issues for John Fox and Gary Kubiak, the Aaron Rodgers injury, not to mention ...
October 19, 2013
As the season heads toward the midway point, the strengths and weaknesses of each team have become pretty clear. For the Week 7 edition of our NFL power rankings, we'll take ...
October 5, 2013
After the Cleveland Browns kept their winning streak alive over the Buffalo Bills, Week 5 is underway, and there are a number of really good games on the schedule. Below are ...
September 28, 2013
Week 4 in the NFL is the first week with byes, but it doesn't mean that this week's slate of games will be a dud. In fact, there are some really ...
September 14, 2013
Week 2 of the NFL is shaping up to provide a fantastic set of games. There are a few games, in particular, that look like they will be must-see television. Which ...
September 14, 2013
Fantasy football is all about finding sleepers to put your team over the top, and there are a number of sleeper quarterbacks in Week 2 who you must start.  Most of ...