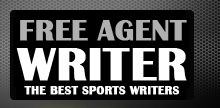 Yankee Addicts
Categories
Featured Sponsors
News published by
August 29, 2010
Thank You Chan Gailey, Thank You. Last Year, wideout/punt return specialist Roscoe Parrish became alternate bench warmer, and many Bills fans and myself never knew why. Speculation was Parrish and the old coaching regime, ...
August 27, 2010
I have to laugh sometimes when people talk about the Bills. I mean, my friends, family, strangers, work colleagues, whoever-- it doesn't matter--because the general consensus this off season is the Bills stink, ...
January 8, 2010
You're probably wondering what I was smoking when I decided to crop an unfocused, seemingly innocent photo of a turned over Buffalo Bills helmet.  But as the 'ole ball coach Lee ...