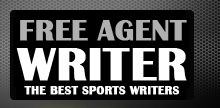 Yankee Addicts
Categories
Featured Sponsors
News published by
April 3, 2010
Mock 2.0 has some movement in the first round that will shake up the second round some when I reveal that in a few weeks. The biggest movement ...
March 19, 2010
The first thing you'll notice about this mock draft is a few big names missing from the first round including NFL Combine studs Bruce Campbell, Jahvid Best, and ...
March 1, 2010
  When it comes down to the makeup of his coaching staff, Chicago Bears head coach likes what he sees entering the 2010 season. The Bears promoted defensive line coach Rod Marinelli ...
February 27, 2010
Watching the 2010 NFL Scouting Combine and "watching" the Combine are two entirely different experiences. To watch the Combine, you turn it on NFL Network and let the editing roll. But to ...
February 19, 2010
Running backs in the 2010 NFL Draft are pretty fairly deep with a pair of first round quality picks and a trio of second round talents. Running backs represent less ...