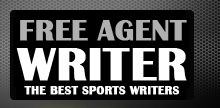 Yankee Addicts
Categories
Featured Sponsors
News published by
April 1, 2010
Game 1: Cleveland Browns at Green Bay Packers Game 2: Green Bay Packers at Seattle Seahawks Game 3: Indianapolis Colts at Green Bay Packers (ESPN - Thursday Night) Game ...
March 24, 2010
This is the third in my series of articles examining potential draft strategies for the Green Bay Packers. I've previously identified the Packers' five primary needs to be ...
March 14, 2010
It would be difficult to dispute that Mason Crosby had a bad year kicking field goals for the Green Bay Packers. Among kickers with at least 15 attempts, ...
March 9, 2010
It was the best of times, it was the worst of times. Yes, the first few days of free agency was a mixed bag for Green Bay Packers fans. While Packer ...
March 3, 2010
For all you Packer fans that spent the weekend glued to NFL Network (myself included), getting all worked up about who just ran the fastest 40 or bench-pressed the most ...
February 25, 2010
As the 2010 NFL combine approaches, rabid fans of the NFL will be reading, listening and looking for details about their favorite prospects for their favorite teams. To make life a ...
February 19, 2010
Today, I bring you the second installment in my Green Bay Packers Draft Analysis Series. In Article No. 1 , I discussed general needs and laid out my initial ...
February 15, 2010
This will be the first in a series of reports where I will be analyzing the upcoming 2010 NFL Draft from a Green Bay Packers perspective. This first article will ...