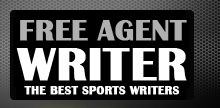 Yankee Addicts
Categories
Featured Sponsors
News published by
August 10, 2010
You, I, or anyone with a conscience feels bad when we do something that gets somebody hurt—dropping something on someone's foot, inadvertently knocking someone over, etc. Imagine if it happened ...
July 7, 2010
Apparently earning millions of dollars isn't enough anymore. Maybe it just doesn't go as far (it certainly would be nice to find out, though). More than likely, professional athletes have ...
May 4, 2010
So CB Justin Miller is now a Cardinal? He is another former Jet, joining K Jay Feely, S Kerry Rhodes, and OL Alan Faneca. He gives the Cardinals depth at cornerback, ...
April 29, 2010
On an abysmal Tuesday of drubbings in the Phoenix sports world (12-1 loss by the Diamondbacks and 6-1 elimination of the Coyotes from the playoffs), the Arizona Cardinals quietly staged ...