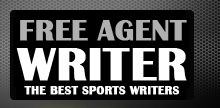 Yankee Addicts
Categories
Featured Sponsors
News published by
January 21, 2011
The NFL Playoffs are exciting, but they are not as exciting as March Madness or BCS Bowl Games, and there are a few ways that the NFL could improve the ...
January 9, 2011
Antonio Cromartie of the New York Jets has been one of the best cornerbacks in the league, and would make a huge impact to any team that he is signed ...
December 30, 2010
Here we are ladies and gentlemen, another exciting NFL season gone by. Here we have a week at hand boasting four teams, the Jacksonville Jaguars, New York Giants, Seattle Seahawks ...
December 28, 2010
The NFL's Tuesday game, the first since 1946, is set to kick off at 8 p.m tonight as the Minnesota Vikings visit the Philadelphia Eagles.Thanks to the snow, the game ...
December 24, 2010
Peyton Manning and the Indianapolis Colts took longer than expected to put their playoff destiny into their own hands, but with their win over the Jacksonville Jaguars on Sunday, the ...
December 21, 2010
After 15 wild and crazy weeks of football, the regular season is finally winding down, and just like every other season in the past decade, it was an exciting one. There ...
December 21, 2010
Last night, finally, may have been the last game that we see Minnesota Vikings quarterback Brett Favre in an NFL football game.He'll still dominate the news until next season starts ...
December 14, 2010
The Houston Texans lost Monday night's game against the Baltimore Ravens in overtime in what can probably be considered one of the most exciting Monday night games this season.Houston, down ...
December 7, 2010
It came as quite a surprise yesterday that after only 28 games with the Denver Broncos, the team and their owner Pat Bowlen decided to fire the young coach.Bowlen had ...
November 30, 2010
There are only five games of football left in the season, much to everyone's chagrin, but with the end of the regular season comes the always exciting playoff games.Aside from ...