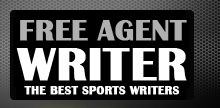 Yankee Addicts
Categories
Featured Sponsors
News published by
April 1, 2014
Elite playmakers like Calvin Johnson and Vernon Davis don't grow on trees.  Game-breaking offensive weapons are a treasured commodity in the NFL, but there are a few elite prospects entering the ...
February 26, 2014
Former Oregon Ducks running back De'Anthony Thomas underwhelmed at the 2014 NFL Scouting Combine. His inability to wow scouts means he's sure to slide into the final day of the ...
February 25, 2014
Former Louisville quarterback Teddy Bridgewater needs a near-flawless performance at his pro day to resurrect his flagging NFL draft stock.   His stock has been slowly sinking since the end of ...
February 19, 2014
The NFL is an ever-evolving league in which incoming players continue to show up bigger, stronger and faster than their predecessors, and it's always fascinating to see if new records ...
February 18, 2014
With 355 prospects—including 85 underclassmen—on the invite list for the 2014 NFL Scouting Combine, the league's annual trip to Indianapolis promises to give draft enthusiasts and scouts all the ...
February 12, 2014
After suffering through a painful elbow injury for most of the 2013 NFL season, Dallas Cowboys pass-rusher DeMarcus Ware will undergo surgery on Feb. 18.     Todd Archer of ESPN.com provided the ...
January 1, 2014
Jadeveon Clowney, Anthony Barr, Kony Ealy and Darqueze Dennard are but a few of the top defensive prospects that could be selected early in the 2014 NFL draft. Given the need ...
December 31, 2013
With six NFL head coaching jobs suddenly open after Black Monday's firing squad went to work following the end of the regular season, there's plenty of speculation and rumors about ...
December 25, 2013
Heading into Week 17, the NFL's injured stars are hoping for good news that would allow them to play in the final regular-season game of 2013.  Getting injured at any point ...
December 17, 2013
Heading into Week 16, there are some NFL playoff outsiders with a great shot to sneak into the postseason with a strong finish and a little bit of help.  With two ...