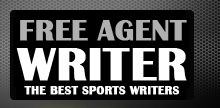 Yankee Addicts
Categories
Featured Sponsors
News published by
April 7, 2011
We all knew this day would eventually come. Some of us thought it would have ended sooner between both sides, but it is only now that we really feel a ...
April 1, 2011
In less than a month, all eyes will be on Radio City Music Hall for the 2011 NFL Draft. There is still one question that has yet to be answered: Who will be ...
March 30, 2011
We all know Tony Romo and Miles Austin will once again become the Cowboys' main threat through the air next season, but what we don't know is who Romo will ...
March 24, 2011
With the 2011 NFL Draft just about one month away, it's time to really zone in on what the Cleveland Browns will do come April 28. So far we know ...
March 12, 2011
When it comes to drafting a future franchise quarterback, everything must be taken into consideration. Questions like how well a quarterback can accurately throw the ball down field, how they can handle getting away ...
March 4, 2011
Calm down all you Colt McCoy fans, there's still a good month until the upcoming 2011 NFL Draft. For know though, let the draft speculation officially begin. Every NFL fan knows ...
February 26, 2011
Sure, we all have an idea of what Cam Newton, A.J. Green, Nick Fairley and Da'Quan Bowers can bring to the 2011 NFL Combine. But who are the players that ...
February 4, 2011
Black and Yellow vs. Green and Yellow. Is it really that simple? To some it is, but to others it is a match up between two of the most historic ...
January 29, 2011
A little over two weeks ago, the Cleveland Browns and President Mike Holmgren chose former St. Louis Rams offensive coordinator Pat Shurmur as their new head coach. So why is this news today? Well, ...
December 30, 2010
They are the players we all had high hopes for at the outset of the 2010 fantasy football season.  Players we all regrettably drafted high, thinking they would lead us to the promised ...