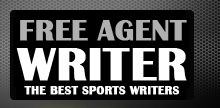 Yankee Addicts
Categories
Featured Sponsors
News published by
February 25, 2011
This offseason, the Oakland Raiders have taken a similar approach to free agency to what they did last year. They are focusing primarily on their own free agents keeping them ...
January 29, 2011
Before I get into the body of this article I want to mention its purpose, which is to spark a discussion.  To some that may be a cheap way to rack ...
January 18, 2011
Not much of a surprise, but the Oakland Raiders have finally named Hue Jackson as their Head Coach. This decision definitely has it's upside, as it gives the players some level ...
July 29, 2010
The Oakland Raiders' first round pick, Rolando McClain, was signed minutes before the stroke of midnight. Now the Raiders have all their rookies signed in time for camp ...
July 10, 2010
It is widely assumed that new Oakland Raiders quarterback Jason Campbell is a much needed upgrade than the draft bust that was JaMarcus Russell. It is clear from both mainstream media ...
July 7, 2010
Tom Cable knew that as the Head Coach of the Oakland Raiders, he would have to change the overall attitude of a under achieving football team. Cable did wonders in ...
June 29, 2010
In 2009, the Oakland Raiders wide receivers struggled due to unstable quarterback play, an inconsistent offensive line, a case of the dropsies, and overall lack of experience. But, they grew ...
June 18, 2010
The Oakland Raiders have no doubt improved their team. During a long seven years of losing, the Raiders seem to have a genuine plan to bring back some respectability to ...
June 9, 2010
As OTA's start to wind down, the approach of training camp quickly emerges. The Raiders finish their OTA programs about next week. A few weeks later it is off to ...
May 28, 2010
Right now the Oakland Raiders are trying to make their transition into football without no. one pick Jamarcus Russell. As far as the field is concerned, they have done an adequate ...