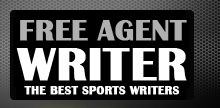 Yankee Addicts
Categories
Featured Sponsors
News published by
September 4, 2012
Is there anything better than the excitement felt when the NFL season is upon us?Sure, the birth of a child, your wedding day and realizing that the cop who pulled ...
January 5, 2011
Most Texans fans were pretty upset late last week when they heard that Gary Kubiak would be brought back for his sixth season with the Texans. For that reason, the ...
December 27, 2010
The Houston Texans finally got it right—in the first half. In their latest disappointing performance, they flipped the script and jumped off to a fast start, bolting out to a ...