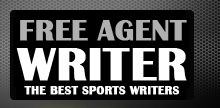 Yankee Addicts
Categories
Featured Sponsors
News published by
February 9, 2011
The 2010 NFL season is in the books and once again, for the second consecutive season, the Jets fell 60 minutes shy of the Super Bowl.  Now, the dejected Gang Green ...
November 22, 2010
The New York Jets hosted the Houston Texans in what turned out to be yet another heart-stopping, down-to-the-wire victory for the Jets. The Jets were leading the Texans 23-7 in ...
September 30, 2010
The New York Jets will travel upstate to do battle with the Buffalo Bills in the their third consecutive divisional match-up.  With consecutive wins over the New England Patriots and Miami Dolphins, ...
September 9, 2010
DELEVOPING NOW: Tom Brady was involved in a two-car accident at 6:34am this morning (Sept 9) in Boston.  It's being reported that Brady walked away unscathed.There has been no comment ...
September 1, 2010
Tomorrow, the Jets play their final preseason game against the Philadelphia Eagles. Traditionally, the final preseason game is usually the one where the starters see the least action and it's the ...
August 10, 2010
I will start off by stating that this article is complete conjecture. It's solely and opinion, so if you're not into conspiracy theory, you can stop reading now. With the recent ...